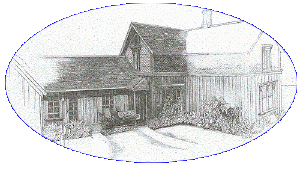 LOCAL ACTIVITIES






THERE'S SO MUCH TO DO...

If your not familiar with Mendocino, there is plenty to see and do in town. Shops, art galleries, museums, the Art Center, ...

We are surrounded by incredible natural beauty and it is easily accessible by bike, canoe, kayak, and your own two feet. On the kitchen table you'll find a copy of the Hip Pocket Guide to the Mendocino Coast. Within a few miles you'll find five State Parks with numerous easy to moderately hard hiking trails. These include the Russian Gulch Waterfall Trail, Mendocino Woodlands Trails, Observation Point Trail, the Van Damme State Park and many more.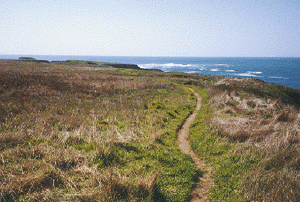 TAKE A WALK ON THE HEADLANDS...
Pack a simple picnic (or get one from Tote Fete take-out and you're on your own. You don't have to get in a car. Just walk out the gate, turn left or right, and keep walking until you're on the headlands (two blocks either way). If you walk all the way around town, it's about one-and-a-half miles. All the way around the headlands is about three miles. But a one-half mile walk (it's almost level) will get you to some of the most beautiful coastline in the world.
A BIKE RIDE UP THE RIVER...
Most of the logging roads in the area belong to the local timber companies. Pedestrians and bicyclists on the roads can be dangerous both to themselves and the log trucks. So it is very important to err on the side of caution whenever you visit the back-country.

That said, if you like to get away from it all, we can show you places to go and times to go there that are fabulously enjoyable. The spot in the photo is around three miles up Big River (the mouth of the river is four blocks from the cottage). Just before this bend in the river is Dawson's. A little hard to find, but you can hike down to the river's edge and a picnic table--it's a good fishing spot also. There is virtually no limit to back country bike trips. You can easily ride ten to twenty miles one way. Bring your own bikes!
A CANOE TRIP UP THE RIVER...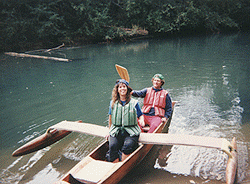 Rent a canoe or kayak from Catch-A-Canoe or bring your own. On your kitchen table, we provide a good detailed tide log so you'll know the best time to take your trip. Big River and Catch-A-Canoe are just a short distance from the cottage. Within ten miles or so of the house you will find the Albion River, Navarro River, Noyo River and Pudding Creek for your paddling enjoyment. There is also a great big ocean for the hearty.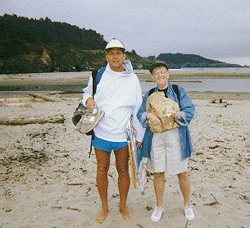 LET'S GO TO THE BEACH...
There are two beaches within easy walking distance of the cottage, Point Beach and Big River Beach.

Point Beach is small and protected with lots of driftwood and a huge sea cave that runs clear through the point. You can often see sea lions and osprey shopping for dinner offshore.

Big River Beach is quite large and never crowded. Pack a picnic, bring the frisbee, watch the surfers and volley ball games (or go surfing and play volleyball). You can watch the children building sand castles, build a bonfire, cook dinner, tell ghost stories and gaze at the stars. It's all free.


JUST A SAMPLE...
This is just a sample of the activities we engage in frequently. You'll have to explore for yourself, find your own way. One thing for sure, there's no limit to what you can do.


| The Cottage | | Reservations | Your Hosts | Testimonials | Travel Map | Home |
e-mail: Innkeeper@Beggs-BishopCottage.com
Copyright © echo date("Y", time()); ?> Beggs-Bishop Cottage
P. O. Box 393
Mendocino, CA. 95460
707-937-2353

Produced by Jacquard Websites